Minimary Invasive Cardiac Surgery (MICS)
―By MICS, social rehabilitation will also be promptly―
In cardiac surgery, a median sternotomy incision that vertically the entire sternum is standard. When all the sternum incision, about 3 months, you could not have a heavy object of 10Kg or more and hard exercise would be difficult. Three months later, limitation of motion is released basically. Young people will take the time to social rehabilitation. Elderly people will take some time still to return to everyday life.
In Hiroshima University Hospital, for cases that are suitable, we perform "MICS".
However, in the complex case we have determined that the difficulty in MICS, we will make an incision in a conventional manner without unreasonable. We considered in conjunction with the patient. We will choose the method that benefit than suitable for disease states.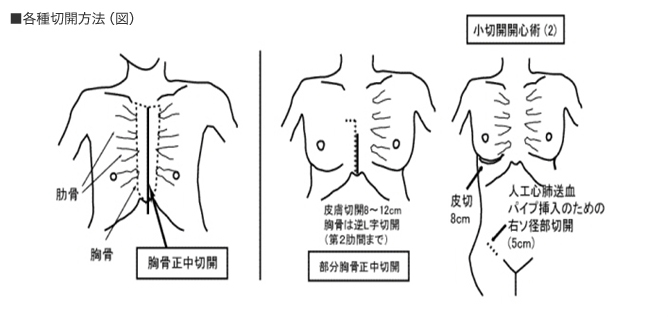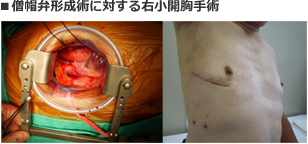 Specifically, in congenital heart disease and mitral valve disease surgery, we are doing a heart surgery under direct vision, either under the right breast done in small thoracotomy, or by the partial sternotomy with a small incision of the midline, under endoscopic assist.
In aortic valvular surgery, we have been partial sternotomy in small incision of the midline.
In aortic surgery, using a stent graft that has been introduced in another page, we have been treated at the catheter from the groin.